Direct English from the Linguaphone Group has made learning English easy and accessible for adults of all ages and abilities. The course is tailored to everyone's abilities and goals, progresses at your own pace and adapts around each work and lifestyle commitments. Direct English provides a learner focused platform that helps learners to achieve their goals. There are 9 core levels from foundation level up to level 8, plus a specialized course in Business English. Direct English strives to help thousands of learners to learn the international language and communicate in a very efficient way. Every Direct English training center is able to certify your English ability with proper platforms and tools used.
Direct English in the Kingdom of Bahrain, strives to be the unique enabler of human capital with the power of knowledge and skills to enhance productivity. Direct English endeavours to exceed partners' aspiration by improving human capital through the accumulated knowledge and people excellence. Direct English is dedicated to helping its clients succeed in their study of English. We play a central role in motivating the learners and keeping their learning on track, so that they can become confident and effective speakers of English. Direct English materials are based on a carefully worked out cyclical syllabus. The main areas of language are introduced three times in each level.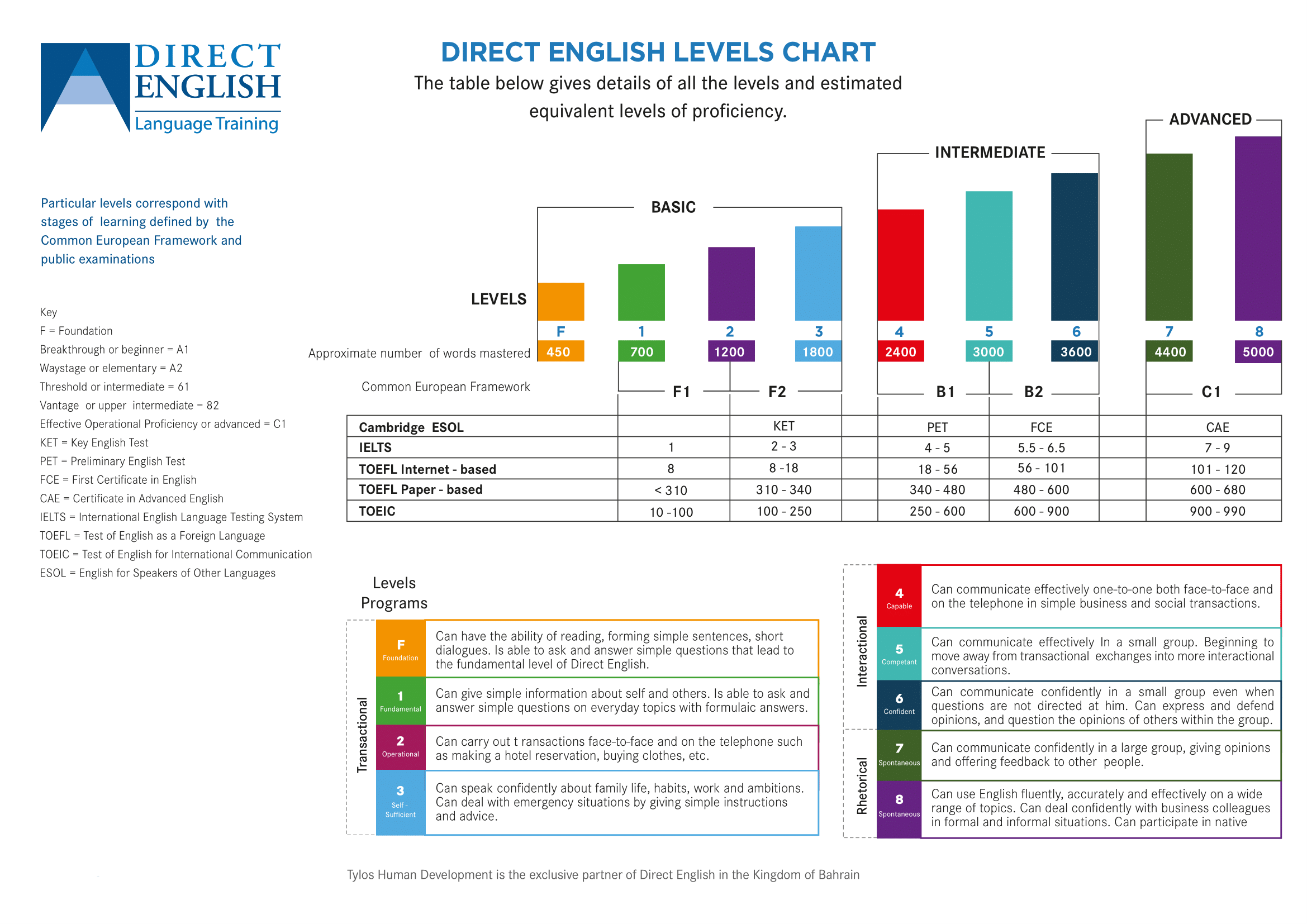 STUDY MATERIALS:

Our program is up-to-date and is a product of many years of preparation and experience to accommodate to different types of learners through the study materials. It is designed for maximum communication and allows customers to use their English from the earliest stages.
Direct English Language Study material
The study material provided aims to give learners the best grammar, vocabulary and usage explanation and advanced speaking practice that will be reflected and the audio and video materials. In addition to this, the Language Study phase introduces short reading texts and some systematic training in key areas of English that can be practiced in monologue or dialogue.
COURSE BOOK & WORK BOOK
English/Arabic guide for Foundation level and level 1 Bilingual support decreases as the English ability increases
Contains 9 units with 27 lessons

COMPANION BOOK
This book contains instructions, commentary and grammar and language explanations

PC Audio and Video Disk Material
Contains an appealing video drama and story lines related to the lesson